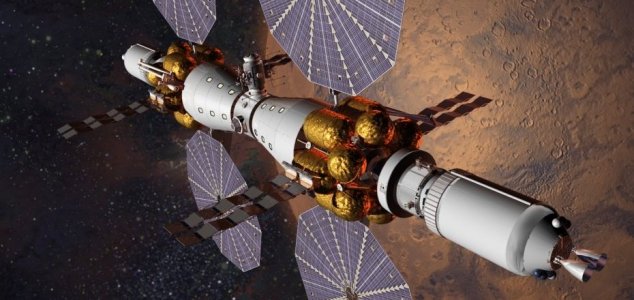 Concept image of what the Mars Base Camp mission might look like.

Image Credit: Lockheed Martin
NASA partner Lockheed Martin is planning an ambitious mission to put astronauts into orbit around Mars.
Known as Mars Base Camp, the project would involve the construction of a spacecraft incorporating two of NASA's Orion capsules along with additional habitation and research modules.
The mission, which would last for around three years, would ditch the idea of landing astronauts on the surface of Mars in favor of placing them high up in orbit instead - the perfect place to carry out research, launch remote-controlled probes and look for landing spots for future missions.
It may even be possible to use one of the Orion capsules to visit Phobos - one of Mars' moons.
The Mars Base Camp concept is certainly more achievable than attempting to land on the surface of Mars in the near future - especially given that Orion isn't designed to take off from other worlds.
Even achieving orbit around the planet would be a major milestone in manned space exploration.
Whether the mission will ever actually get off the ground however remains to be seen.
Source: Extreme Tech | Comments (2)
Tags: Lockheed, Mars