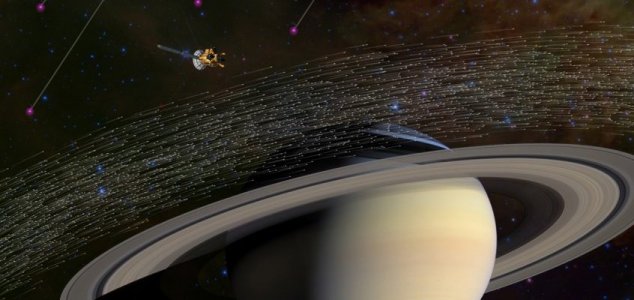 The Cassini mission has been tremendously successful.

Image Credit: NASA/JPL-Caltech
The spacecraft embarked upon the first of its final five orbits around the gas giant earlier today.
Originally launched all the way back in 1997 and arriving in orbit around Saturn in 2004, Cassini, which initially came paired with ESA's Titan-bound Huygens lander, has been one of the biggest success stories in space exploration over the last two decades.
Brimming with an array of sophisticated instrumentation, Cassini has sent back huge amounts of information about Saturn and its moons as well as about its fascinating and enigmatic ring system.
Now though, as the probe nears the end of its operational life, NASA has been sending the probe on an increasingly daring series of orbits, taking it closer and closer to the gas giant before embarking on one final, suicidal dive right in to its atmosphere.
The final phase of this 'grand finale' began this morning as Cassini headed in to the first of five orbits that will see it skim through Saturn's upper atmosphere, 1,700km above the clouds.
"As it makes these five dips into Saturn, followed by its final plunge, Cassini will become the first Saturn atmospheric probe," NASA's Cassini project manager Earl Maize.
"It's long been a goal in planetary exploration to send a dedicated probe into the atmosphere of Saturn, and we're laying the groundwork for future exploration with this first foray."
The probe's final descent in to Saturn's atmosphere is set to take place on September 15th.
Source: EarthSky.org | Comments (3)
Tags: Cassini, Saturn