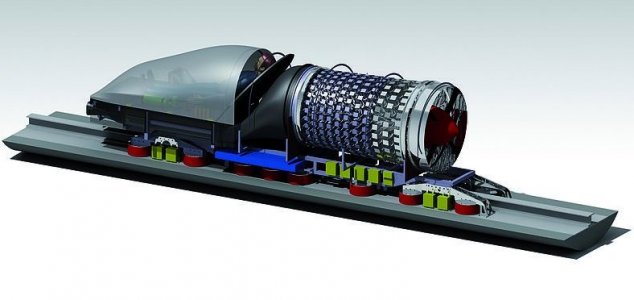 Passengers would travel inside special high-speed pods.

Image Credit: CC BY-SA 4.0 KSPanier
The team from the Technical University of Munich have become the first to beat the 200mph barrier.
Originally revealed back in 2013 by SpaceX CEO Elon Musk, the Hyperloop is a potentially revolutionary transportation system consisting of a network of reduced-pressure tubes.
Special pressurized capsules inside the tubes, which will be capable of reaching speeds of up to 760mph while riding upon a cushion of air, will act as carriages for the passengers.
The initial route, which would be from Los Angeles to San Francisco, could take just 30 minutes.
Now a team of students from Germany who have been competing to produce a Hyperloop pod design that will be adopted by Musk have become the first to conduct a test run exceeding 200mph.
Their WARR Hyperloop pod prototype was awarded first place in the second stage of the competition at the weekend, seeing off 20 other competing teams from other universities around the world.
With Musk hoping to eventually see the system go supersonic however, there is still a long way to go.
Source: Telegraph | Comments (7)
Tags: Hyperloop