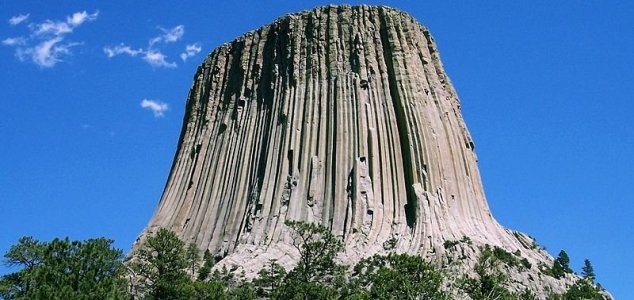 Devils Tower is the solidified core of an ancient volcano.

Image Credit: Public Domain
The iconic monument was featured prominently in the 1977 movie 'Close Encounters of the Third Kind'.
Rising 386 meters above the Belle Fourche River, the Devils Tower in northeastern Wyoming was declared a United States National Monument by Theodore Roosevelt all the way back in 1906.
Now in honor of its connection to the UFO phenomenon, enthusiasts from all across the country will be making their way there for the first ever
Devils Tower UFO Rendezvous
from September 14th-16th.
The event marks the 40th anniversary of the movie that helped to make it famous.
"There is a scientific side of it, there's a lot of people that are taking it very seriously and they're the ones that are more interested in the convention," said organizer Brian Olson.
The event will see talks from a number of UFO researchers as well as a UFO-themed parade.
"This is the 40th anniversary of
Close Encounters of the Third Kind
," said organizer Laurie Tucker.
"I'd like to think that that movie put Devils Tower and our community on the map so we're also celebrating that as well."
Source: TIME Magazine | Comments (31)
Tags: Devils Tower, UFO