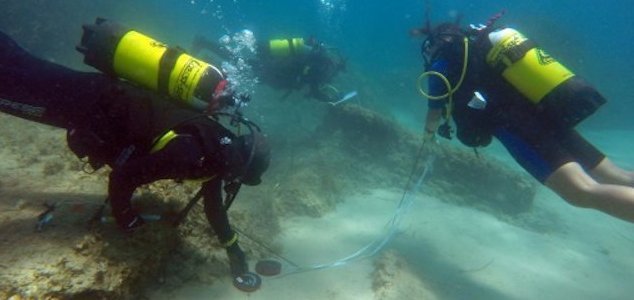 The archaeological dive team.

Image Credit: Tunisian National Heritage Institute / University of Sassari
Archaeologists have uncovered the ruins of a long-lost Roman city that was destroyed by a tsunami.
The exact whereabouts of the city, which was thought to have been submerged beneath the waves when a massive tsunami hit the region in the 4th century, have remained a mystery for years.
The destructive power of the tsunami was so great that, in addition to destroying Neapolis, it also severely damaged the coastal city of Alexandria in Egypt and the Greek Island of Crete.
Now archaeologists from Italy and Tunisia have announced that they have finally located the ruins of Neapolis spread across a 20-hectare site off the coast of Tunisia.
In addition to streets and monuments, the dive team also uncovered dozens of tanks that would have once been used to store garum - a fermented condiment made from fish that was particularly popular in Rome at the time and that was thought to have greatly contributed to the city's wealth.
"It's a major discovery," said mission leader Mounir Fantar.
"This discovery has allowed us to establish with certainty that Neapolis was a major center for the manufacture of garum and salt fish, probably the largest center in the Roman world."
"Probably the notables of Neapolis owed their fortune to garum."
Source: Independent | Comments (3)
Tags: Neapolis, Roman