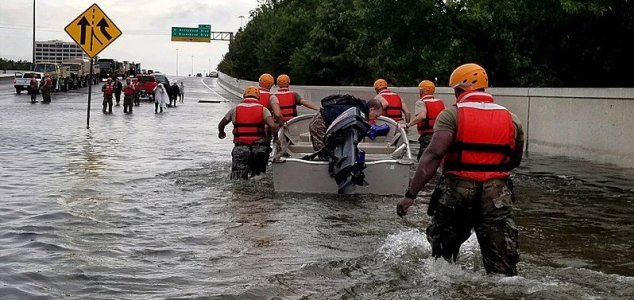 Harvey brought widespread flooding.

Image Credit: US Army / Zachary West
Scientists have managed to weigh how much water fell on Texas during the hurricane back in August.
During this month's meeting of the American Geophysical Union in New Orleans, it was revealed that 127 billion tons ( 34 trillion US gallons ) of water fell over the state of Texas during Hurricane Harvey.
"One person asked me how many stadia is that," said Adrian Borsa from the Scripps Institution of Oceanography. "It's 26,000 New Orleans Superdomes."
Rather than relying on conventional rain gauges, scientists determined this remarkable statistic by assessing how much the planet had been compressed by the weight of the water that had fallen.
"It's like you sitting down on a mattress - it depresses; you stand up and it rebounds," said Borsa. "The Earth behaves very similarly, like a rubber block."
"So the Earth is recording the effects of the loads acting on its surface."
According to researchers, the extreme rainfall was exacerbated by rising ocean temperatures.
Global warming is also likely to increase the chances of further such weather events in the future.
Source: BBC News | Comments (0)
Tags: Hurricane, Harvey