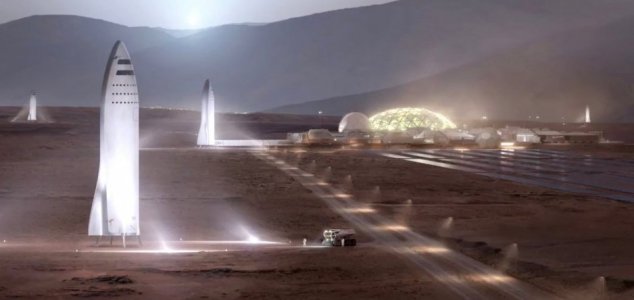 An artist's impression of what a future city on Mars might look like.

Image Credit: SpaceX
Elon Musk has stressed the importance of sending humans to Mars before the next 'probable' World War.
Speaking during an on-stage appearance at the South by South West (SXSW) conference in Austin, Texas, the SpaceX CEO offered an optimistic timetable for the testing of his new Mars ship.
"I think we'll be able to do short flights, up and down flights, some time in the first half of next year," he said, however added that "sometimes my timelines are a little... y'know."
"In the short-term," he added, "Mars is really about getting the spaceship built," with the goal of proving to other companies and countries that it can be done.
"They currently don't think it's possible, so if we show them that it is, they'll up their game and build interplanetary transport vehicles, as well," he said.
"A tremendous amount of entrepreneurial resources (will be) needed. because you have to build out the entire base of industry, everything that allows human civilization to exist."
"For the early people that go to Mars, it will be far more dangerous. It kind of reads like (Ernest) Shackleton's ad for Antarctic explorers: Difficult, dangerous, good chance you'll die."
"Excitement for those who survive."
For Musk however, colonizing Mars is about more than just proving that it can be done - it's about ensuring the survival of the human race far in to the future.
"I think it's unlikely that we'll never have a world war again," he said.
"This has been our pattern in the past."
Source: USA Today | Comments (10)
Tags: Elon Musk, SpaceX, Mars