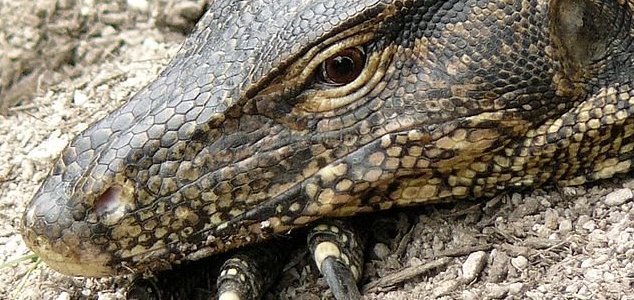 The extra eyes made this lizard unlike anything alive today.

Image Credit: CC BY 2.0 yeowatzup
A new fossil analysis has revealed that one particular species of lizard had extra eyes on the top of its head.
The remarkable discovery, which was made by researchers from Yale University and Germany's Senckenberg Research Institute, concerns a species known as 'Saniwa ensidens' which lived approximately 49 million years ago.
Its fossil remains were unearthed 150 years ago in the Bridger Basin in southwestern Wyoming, however it wasn't until now that its most unusual feature was identified.
"This tells us how easy it is, in terms of evolution, to self-assemble a complex organ under certain circumstances," said Yale paleontologist Bhart-Anjan Bhullar who co-authered the study.
"Eyes are classically thought of as these remarkably complex structures. In fact, the brain is just waiting to make eyes at all times."
The two additional eyes, which are situated on the top of the lizard's head, appear to have formed from the pineal and parapineal organs - photosensory structures that assist with orientation.
The pineal organ in particular is often referred to as a "third eye".
"By discovering a four-eyed lizard, in which both the pineal and parapineal formed an eye on the top of the head, we could show that the lizard third eye really is different from the third eye of other vertebrates," said study lead author Krister Smith.
Source: Fox News | Comments (10)
Tags: Lizard, Eyes