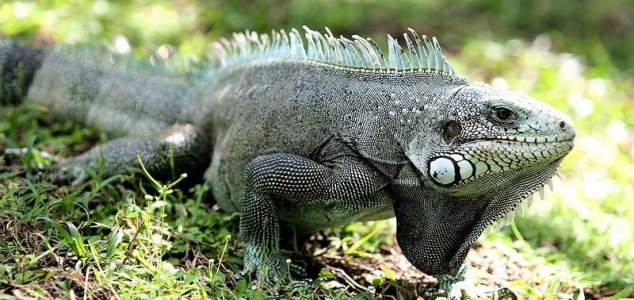 You wouldn't want this to land on your head.

Image Credit: CC BY-SA 3.0 Tristan Nitot
The National Weather Service in Florida this week warned residents about lizards falling on their heads.
We've featured many articles about strange things falling from the sky over the years, but this is the first time we've heard about a deluge of live reptiles.
A warning about the phenomenon was provided recently by Florida's National Weather Service which noted that the upcoming cold weather in Miami may be accompanied by "falling iguanas".
"Brrr! Much colder temps expected for Christmas," the update reads. "Low temperatures in the 30s/40s and falling Iguanas are possible. Keep up with forecast changes and stay warm!"
It turns out that the phenomenon is actually not that uncommon during particularly cold spells.
Iguanas are cold-blooded, meaning that they rely on the Sun's heat to warm themselves up. When the temperature plummets, they can become so cold that they lose their grip of the tree branches and fall to the ground, posing a potential danger to anyone unfortunate enough to be standing underneath.
While the lizards will typically defrost and recover after a short time, if the cold weather persists too long it is not unheard of for them to freeze to death before they can warm up again.
The "falling iguanas' warning, therefore, is exactly that - a notice to let people know that the weather may cause iguanas to fall from the trees and to be wary of walking underneath them.
Source: Sky News | Comments (5)
Tags: Iguana, Miami