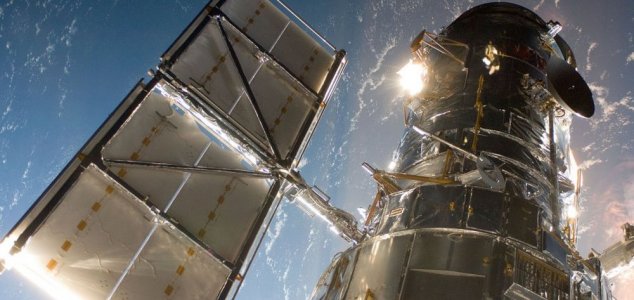 The discovery was made by NASA's aging Hubble Space Telescope.

Image Credit: NASA / JSC
The Hubble Space Telescope has picked up the light from a very bright star over 9.3 billion lights years away.
The blue supergiant star, which is situated in a distant spiral galaxy, is 1 million times more luminous than the Sun and is at least 100 times further away than any other star observed by a telescope.
It was spotted using a technique known as gravitational lensing which takes advantage of the fact that massive objects such as galaxies bend light and magnify distant objects behind them.
"The fraction of the universe where we can see stars is very small," said study lead author Patrick Kelly. "But this sort of quirk of nature allows us to see much bigger volumes."
Nicknamed Icarus, the new star offers an opportunity to look back in time to the early universe.
"We will now be able to study in detail what the universe was like - and specifically how stars evolved and what their natures are - almost all the way back to the earliest stages of the universe and the first generations of stars," said Kelly.
Source: Reuters | Comments (0)
Similar stories based on this topic:
Tags: Star