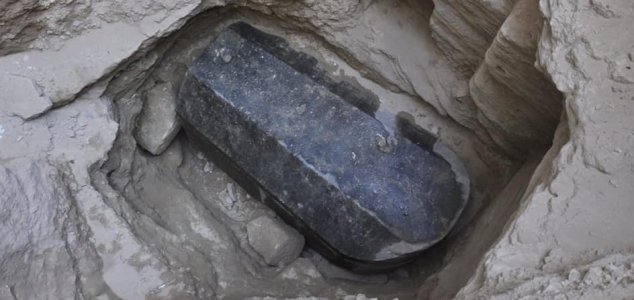 Don't drink what's inside this coffin... seriously...

Image Credit: Facebook / Egypt Ministry of Antiquities
A petition has been launched to encourage people to drink the water from a 2,000-year-old sarcophagus.
The ludicrous petition concerns the recent unearthing of a large, black granite coffin at a dig site in Alexandria, Egypt which contains three decomposed skeletons submerged in sewage.
The individual who launched the petition, who goes by the name 'Innes mck' on change.org, maintains that the sarcophagus is 'cursed' and that drinking its contents will help people 'assume its powers'.
"We need to drink the red liquid from the cursed dark sarcophagus in the form of some sort of carbonated energy drink so we can assume its powers and finally die," he wrote.
The liquid is of course raw sewage that has been festering in the coffin for centuries. Attempting to drink it would almost certainly make a person extremely ill, if not extremely dead.
Incredibly, despite this, the petition has so far managed to rack up over 18,000 signatures.
"I just want to try the juice," wrote one user. "Thirsty," another quipped.
Suffice to say, the entire thing is almost certainly little more than a trolling exercise.
Source: Huffington Post | Comments (187)
Tags: Egypt, Sarcophagus