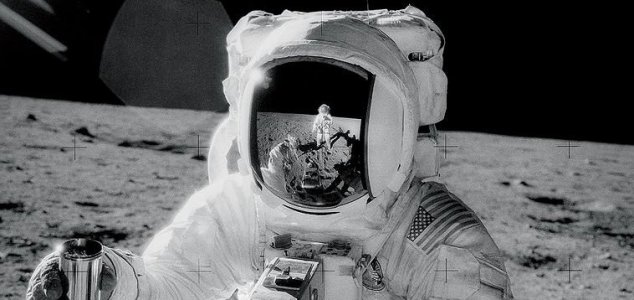 Ice deposits on the Moon could supply a base with water, fuel and oxygen.

Image Credit: NASA
The ice deposits could prove to be an important resource for astronauts setting up a manned outpost in the future.
Discovered at both the Moon's north and south polar regions, the ice was detected via the Moon Mineralogy Mapper (M3) instrument on India's Chandrayaan-1 spacecraft.
It is concentrated mainly within craters at the south pole but is more spread out at the north pole.
Temperatures on the Moon can reach up to 100 degrees Celsius during the daytime, which would seem to make the presence of ice deposits impossible, however due to the Moon's tilt there are certain areas at the poles that remain permanently shadowed.
There had been indications of water ice at the Moon's south pole before, however it had been impossible to tell for sure as scientists could not rule out the reflectivity of the lunar soil.
Now that it is confirmed, it seems that the Moon may be the ideal place for a manned outpost.
"With enough ice sitting at the surface - within the top few millimeters - water would possibly be accessible as a resource for future expeditions to explore and even stay on the moon, and potentially easier to access than the water detected beneath the moon's surface," NASA wrote.
Source: BBC News | Comments (39)
Tags: Ice, Moon