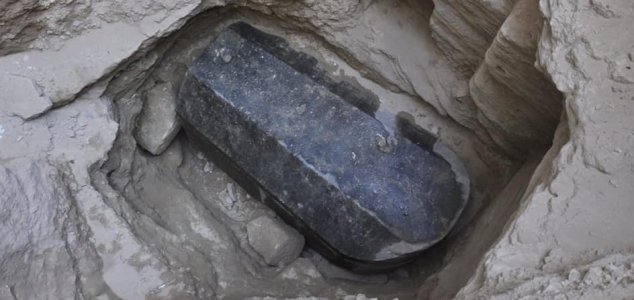 Who were the three people buried in this coffin ?

Image Credit: Facebook / Egypt Ministry of Antiquities
Scientists have started to slowly unravel the mystery of three skeletons found buried in a massive granite coffin.
Measuring a whopping 9ft long, 5ft wide and 6ft tall, the casket, which was unearthed at a building site in Alexandria following a preliminary inspection by a team from Egypt's antiquities ministry, dates back around 2,000 years and is the largest sarcophagus ever discovered in the city.
When archaeologists lifted its lid back in July, they discovered the remains of three skeletons that were partially submerged in a foul-smelling red liquid that was believed to be sewage.
Exactly who these individuals were and why they had been buried in such an enormous coffin was unclear, but now following an analysis of the remains, scientists have started to slowly piece together the answers.
The tomb itself is thought to date back to the Ptolemaic period between 305 B.C. and 30 B.C.
The skeletons belong to a woman who was in her mid 20s, a man who was in his late 30s and a second man who was in his early 40s.
Of particular interest was the discovery of a circular hole in one of the skulls which experts believe is evidence of trepanning - an ancient surgical procedure used to relieve pressure on the brain.
The disgusting liquid they were found in was determined to be a combination of sewage that had leaked in to the coffin and the decomposing remains of the wrappings the bodies were buried in.
Further tests, including a DNA analysis and CT scans, are still to be carried out.
Source: Fox News | Comments (187)
Similar stories based on this topic:
Tags: Egypt, Sarcophagus