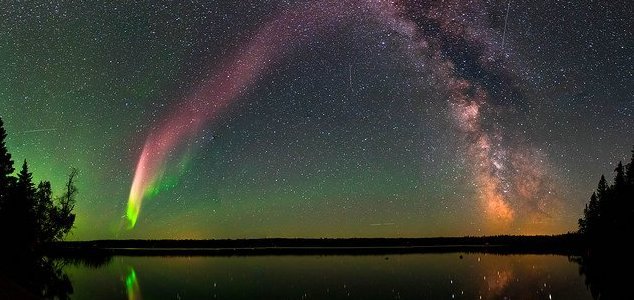 What is 'Steve' exactly ?

Image Credit: NASA
A peculiar strip of glowing light spotted in the sky over Canada has left scientists scratching their heads.
Stretching from east to west, the peculiarly named 'Steve' was first picked up by members of Alberta Aurora Chasers, a Facebook group frequented by people looking to share information about the best places to photograph the Northern Lights.
Reaching temperatures of up to 10,800 degrees Fahrenheit ( the same as the Earth's core ), this peculiar phenomenon is 16 miles wide and thousands of miles long.
Now following an extensive new study in to the nature and origins of 'Steve', researchers have come to the conclusion that the phenomenon is 'completely unknown' to science.
"Our main conclusion is that 'Steve' is not an aurora," said physicist Bea Gallardo-Lacourt from the University of Calgary. "So right now, we know very little about it. And that's the cool thing."
Until more is known about the phenomenon, scientists have decided to keep the name 'Steve' but have changed it to the acronym 'Strong Thermal Emission Velocity Enhancement'.
Source: Live Science | Comments (9)
Similar stories based on this topic:
Tags: Steve, Aurora