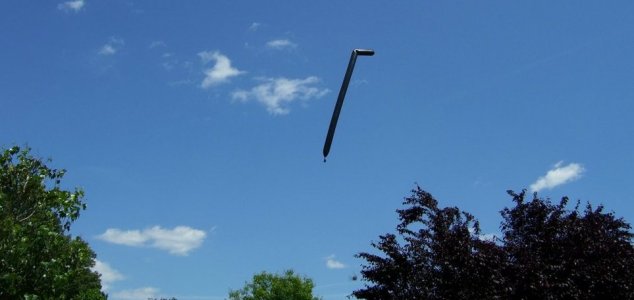 The peculiar-looking object freaked out a lot of people.

Image Credit: Reddit / thatsboot3101
A man has come forward on Reddit to explain how his science experiment ended up causing mass panic.
The incident in question, which occurred 8 years ago in New Jersey, saw dozens of people call local radio stations as well as the emergency services to report a long, thin, black object floating in the sky.
Fast-forward to the present and now a social media user who goes by the name 'thatsboot3101' has finally shed some light on exactly what it was that managed to spark so much panic that day.
The 'UFO', it turns out, was actually little more than a solar balloon created as a science experiment.
"This was just a really thin black plastic bag you'd fill with air, seal, and then set out in the sun," he wrote. "The sun would heat the air in the black bag and the bag would become buoyant and float."
When the first balloon they created managed to escape, the man and his friends thought little of it and set about creating another. The second one lasted quite a while before hitting a tree and popping.
"Oh well, mission success[ful]," he wrote.
It wasn't until years later however that the full consequences of the experiment became apparent.
"The balloon that got away had apparently blown a town over and caused a big UFO panic," the man wrote. "People were calling 911, the police, and local radio stations about it."
"Our boredom unintentionally created a UFO panic in central NJ."
Source: NJ.com | Comments (12)
Similar stories based on this topic:
Tags: UFO