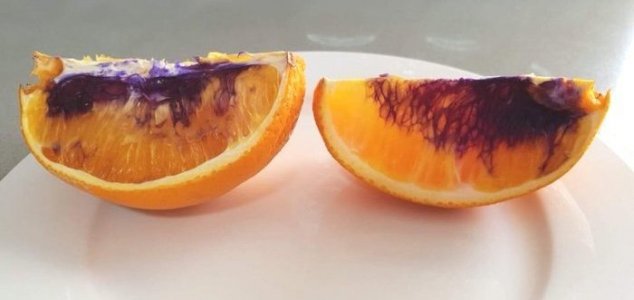 Would you eat an orange that has turned purple ?

Image Credit: Neti Moffitt
Scientists in Australia have been investigating what caused an otherwise normal orange to turn purple.
The peculiar incident occurred earlier this month in Brisbane when a woman, Neti Moffitt, reported that the leftover segments of an orange her son had been eating had turned a disconcerting indigo color.
The case prompted concerns of a public health risk and a detailed laboratory analysis was carried out.
"It looks like someone's dipped it on an ink pad, which I guarantee you we haven't," said Moffitt. "My first thought was I hope it has had no ill effect on my child. But he's fine, absolutely not a drama."
It turned out that the reason the orange had turned purple was because anthocyanins - a naturally occurring antioxidant in oranges - had reacted to iron particles in the knife used to slice it up.
Health authorities were quick to reassure the public that the fruit posed no risk to human health.
"We see samples that range from blood, urine, water, soil, fish and foodstuffs," said Queensland Health's chief chemist Stewart Carswell.
"So to have an orange come through was really different for our team."
Source: BBC News | Comments (5)
Tags: Orange, Purple