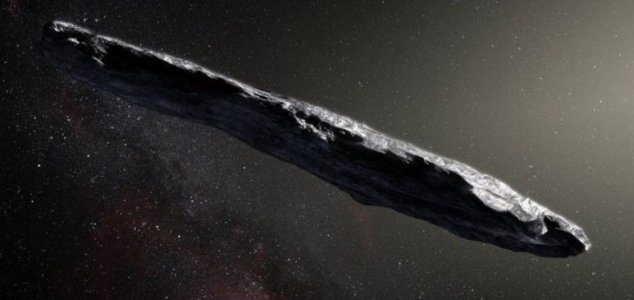 Could 'Oumuamua be a relic from an alien civilization ?

Image Credit: ESO / M. Kornmesser
Harvard astronomers have suggested that the first known interstellar visitor could be an alien probe.
The 400-meter-long object, which flew past our planet back in October 2017, became the focus of much debate and intrigue after it was found to have come from a distant solar system.
Now according to two scientists from Harvard University, 'Oumuamua, far from being a mere asteroid or comet, might actually be a sophisticated extraterrestrial spacecraft equipped with a solar sail which uses radiation pressure to generate propulsion.
Observations of the object as it passed the Sun had indicated no evidence of outgassing - suggesting that it was an asteroid rather than a comet - however as it began to leave the solar system it suddenly exhibited an unexpected burst of speed indicative of material being vented due to solar heating.
To add to this apparant contradiction, if outgassing had been responsible for accelerating the object, it would have also had a significant effect on its spin - something that was not actually observed.
So could this mysterious interstellar visitor really have been built by an alien civilization ?
According to co-author Prof. Abraham Loeb, 'Oumuamua may not necessarily be an active spacecraft - it could be a derelict probe drifting through space under the influence of gravity and stellar radiation.
"This opportunity establishes a potential foundation for a new frontier of space archaeology, namely the study of relics from past civilizations in space," he wrote.
"Finding evidence for space junk of artificial origin would provide an affirmative answer to the age-old question 'Are we alone?'. This would have a dramatic impact on our culture and add a new cosmic perspective to the significance of human activity."
Source: Phys.org | Comments (153)
Similar stories based on this topic:
Tags: Oumuamua, Asteroid