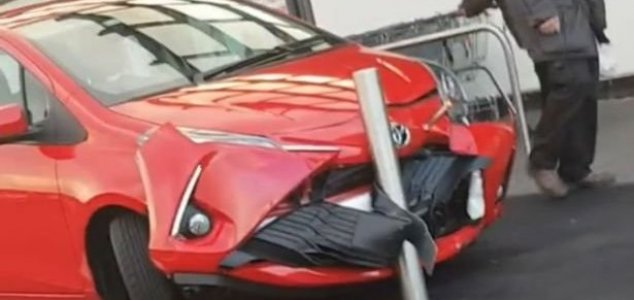 This is taking parallel parking to a whole new extreme.

Image Credit: Facebook / Matty Bestwick
Footage from Scotland shows a car that has somehow become wedged lengthways between two bollards.
The bizarre spectacle was captured on camera by Matthew Bestwick and his son who had been driving to an Aldi store in Livingston, West Lothian back on October 30th.
What makes the scene particularly strange is the fact that the red Toyota is wedged in a horizontal position between the two bollards. It is stuck so tight in fact that the bollards are literally embedded within the front and rear of the vehicle, causing significant damage.
But exactly how did someone manage to drive it in to such a seemingly impossible position ?
Since appearing online, the clip has been subject to some heated debate with some social media users suggesting that the vehicle must have been dropped by a crane to get it positioned as it is.
"We walked by the incident at Aldi in Livingston and couldn't believe how the person had managed it," said Bestwick. "We heard in Aldi itself it was an older gentleman who was a little shaken, had done it."
"The only possible solution was he's reversed into the pillar that hard at an angle he's bounced into that position."
Source: Daily Record | Comments (13)
Tags: Car, Bollards