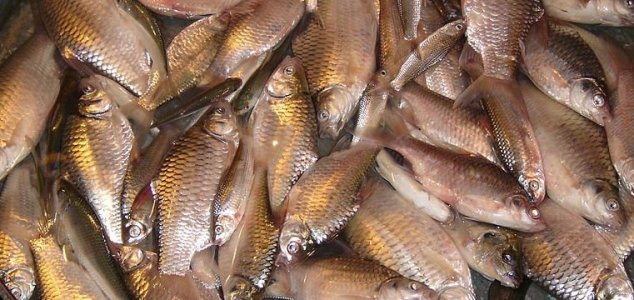 What killed all the fish ?

Image Credit: CC BY-SA 3.0 Biswarup Ganguly
Fish farmers have been left devastated following the unexplained deaths of hundreds of thousands of carp.
The disaster, which has left the banks of the Euphrates river strewn with huge piles of dead fish, has primarily affected the area around the city of Saddat al-Hindiyah to the south of Baghdad.
Not only are the mass fish deaths an environmental disaster, they have also left hundreds of fish farmers with crippling losses and thousands of locals with a greatly reduced food supply.
"Some are saying it's because of a sickness, others say it's because of chemicals," said fish farmer Hussein Faraj. "We're waiting for a solution from the government or a test of the water - we're scared the water will poison us in the coming days, too."
It is believed that at least 90 percent of all the fish across multiple local fish farms have died.
"I farmed 70,000 fish in these ponds - all of them are dead," said fish farmer Anas Nuhad. "Where am I supposed to get fish from now ? Everyone eats fish."
"So many people, so many families are living off this industry."
Iraq's health ministry has collected samples of the water and dead fish for testing however so far no findings have been announced.
All the local fish farmers can do now is wait.
Source: Phys.org | Comments (6)
Tags: Carp, Fish, Iraq