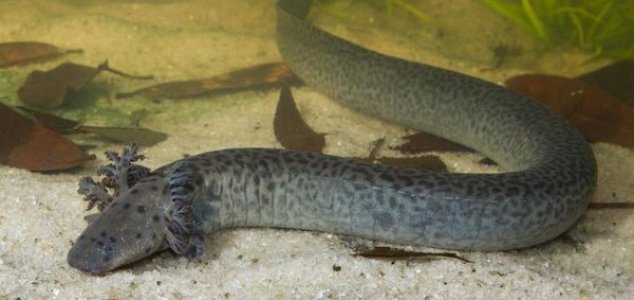 The species is surprisingly large.

Image Credit: Twitter / David Steen / Pierson Hill
A mysterious salamander known as the leopard eel has finally been formally recognized as a new species.
This rarely seen creature, which can be found in the shallow freshwater marshes of Florida and Alabama, had long proven difficult to study due to its highly elusive nature.
Now though, for the first time, researchers from Sul Ross State University in Texas and the Georgia Sea Turtle Center have finally been able to describe and assign a name to this enigmatic species.
It is now known as
Siren reticulata
- or reticulated siren.
One of its more unusual traits is its branching external gills which appear as Christmas-tree-shaped fronds that protrude from its head. It is also remarkably large for such an elusive species.
"They are some of the biggest amphibians in the world," said ecologist and study co-author David Steen from the Georgia Sea Turtle Center. "We are surrounded by them in the southeastern United States, and we know virtually nothing about their biology."
Source: Live Science | Comments (3)
Tags: Salamander