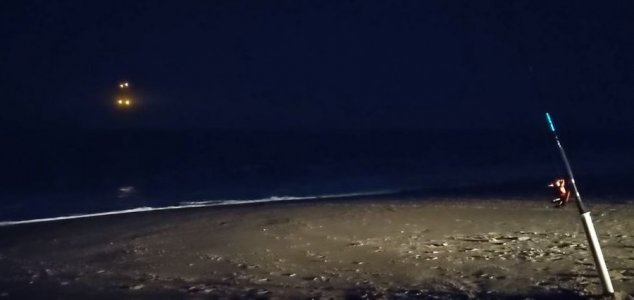 Could these lights be flares, or something else ?

Image Credit: YouTube / crlarkin
An Outer Banks fisherman recently captured footage of some mysterious lights hovering over the ocean.
The unnamed man, who had been fishing after dark off the beach at Cape Lookout on November 13th, grabbed his camera and started filming after a bright orange light suddenly appeared in the sky.
"Around 9 p.m., I rebaited my hooks, cast them out into the surf and walked back to my chair," he wrote. "When I turned back to the ocean, I saw a light in the sky."
"The light is very bright, stationary and silent. Over the course of the next hour it faded in and out, as well as sometimes becoming multiple lights."
The footage went on to generate some heated debate on social media with Internet users speculating over whether or not the sighting could be attributed to a vessel firing flares in to the sky.
"These lights do not appear like flares," wrote YouTube user Paul McNaney. "They both consist of two connected lights, sort of like headlights. Flares don't look like that. Also, to me, it appears as though they're not losing altitude, or moving, at all."
Source: Herald Online | Comments (37)
Tags: UFO, North Carolina