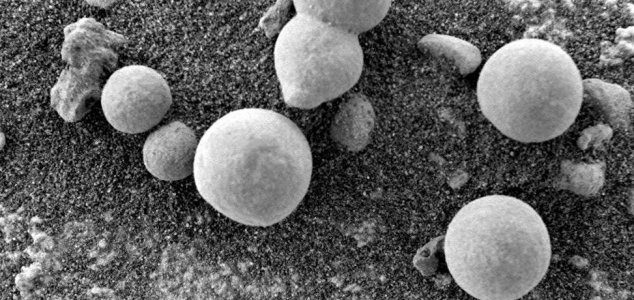 Could these spheres be evidence of life on Mars ?

Image Credit: NASA
The claim that Curiosity has photographed fungi growing on Mars has been met with a high degree of skepticism.
The Red Planet is certainly no stranger to oddball conspiracy theories, however this latest one is a little bit different in that it actually has a microbiology study to back it up.
According to Dr Regina Dass of the department of microbiology at the School of Life Sciences, India, white spherical objects captured on camera by NASA's Curiosity rover could actually be evidence of 'mushrooms' growing on the Martian surface.
"There are no geological or other abiogenic forces on Earth which can produce sedimentary structures, by the hundreds, which have mushroom shapes, stems, stalks, and shed what looks like spores on the surrounding surface," she said.
"In fact, fifteen specimens were photographed by NASA growing out of the ground in just three days."
Unsurprisingly however the study's conclusions have been met with considerable skepticism, not least because the idea that mushrooms could be growing out in the open on Mars seems incredibly unlikely.
NASA has since commented by stating that the spherical objects are a mineral known as haematite.
Suffice to say, the likelihood that the above image shows evidence of alien life is practically nil.
Source: Yahoo! News | Comments (30)
Tags: Mushrooms, Mars