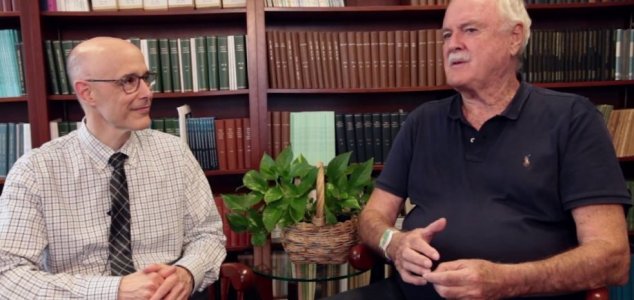 Dr Jim Tucker and John Cleese.

Image Credit: YouTube / UVA Division of Perceptual Studies
The actor and comedian recently spoke to reincarnation researcher Jim Tucker about children recalling past lives.
While the concept of past lives and the idea that people can remember who they used to be remains a highly controversial topic, some researchers have documented tantalizing evidence suggesting that there may be something more to the phenomenon than a child's overactive imagination.
One such researcher is Dr Jim Tucker, a pediatric psychiatrist who is also the director of the University of Virginia's Division of Perceptual Studies (DoPS) - a group well regarded for its expertise and research in to the nature of consciousness and how it relates to the physical world.
In a recent interview, Tucker met up with comedian and actor John Cleese who also shares a keen interest in the topic of reincarnation and the mystery of children recalling details of their past lives.
During their exchange, Tucker talks about the topic in general as well as about the case of a boy named Ryan who was able to recall very specific details of his past life as a man named Marty Martin.
You can view the interview for yourself in the video below.
Source: Daily Grail | Comments (26)
Tags: Reincarnation, John Cleese, Jim Tucker