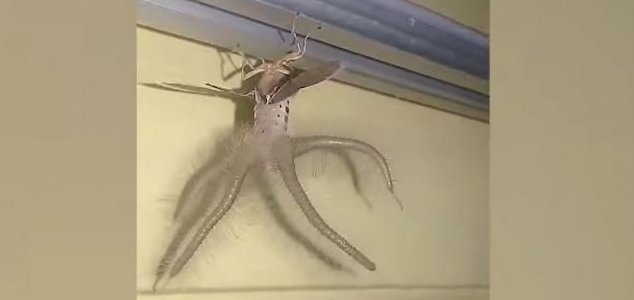 How would you react to finding this in your house ?

Image Credit: YouTube / Viral Press
One Bali resident got the fright of his life when he discovered this strange critter on the ceiling of his home.
Hari Toae described the peculiar creature - which had a set of furry tentacle-like appendages protruding from its abdomen - as "alien-like."
"I will let it stay in my house, but only for the night," he said. "I don't want it to scare my guests away. It's not something I've ever seen before. I don't think it comes from this neighborhood."
As it turns out however, Hari's unusual visitor was in fact a harmless species of moth known as
Creatonotos gangis
which is typically native to Australia and south-east Asia.
The 'tentacles' are scent organs that the moth uses to produce pheromones to attract a mate.
Source: Lad Bible | Comments (18)
Similar stories based on this topic:
Tags: Creature, Moth