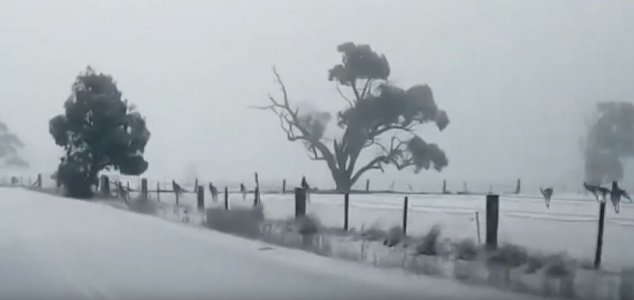 The kangaroos didn't seem bothered by the snow.

Image Credit: Twitter / Stephen Grenfell
Unusual footage showing the strange combination of kangaroos and snow recently went viral on social media.
An unexpected bout of chilly weather hit New South Wales in Australia over the weekend, covering the arid landscape of the outback with a crisp coating of up to 5 inches of snow.
Keen to document the unusual weather, one resident - Stephen Grenfell - used his camera to capture footage of kangaroos bounding across the snow-covered landscape.
"Not something you see every day in Australia," he wrote on Twitter.
Despite its reputation for hot, dry weather, Australia does actually experience snowfall on occasion.
This particular flurry however was the most snow that Grenfell had ever seen.
Source: Huffington Post | Comments (6)
Similar stories based on this topic:
Tags: Kangaroo, Australia