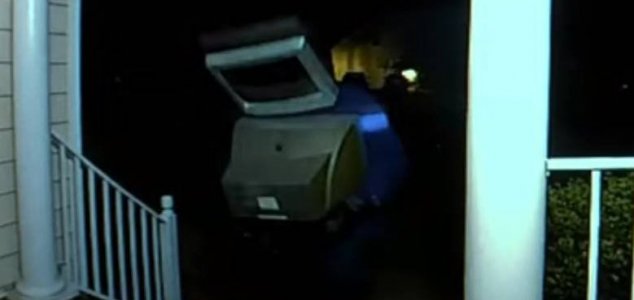 The prankster was evidently fond of old televisions.

Image Credit: YouTube / WSLS 10 / NBC
A man with a TV for a head has been caught on CCTV leaving old CRT TV's outside people's houses in Virginia.
Homeowners in Henrico's Hampshire neighborhood got a surprise on Sunday morning when they awoke to find that someone had been leaving old-school television sets on their front lawns.
Doorbell surveillance cameras managed to capture footage of the culprit - a man dressed in a blue boiler suit who also happened to be wearing a television set on his head.
In total around 50 homes in the area were visited by the mysterious TV man.
"He's committed to his trade," said resident Jim Brooksbank.
"He wants to be known as the TV Santa Claus. I don't know."
Police officers have since rounded up all the television sets, however the identity of the man and his motivations for leaving the TVs around the neighborhood continue to remain a complete mystery.
As things stand, the phenomenon is being treated as a harmless prank.
"At most this seems to be more an inconvenience to the community," an officer told the press.
Source: Lad Bible | Comments (12)
Tags: Television, Virginia