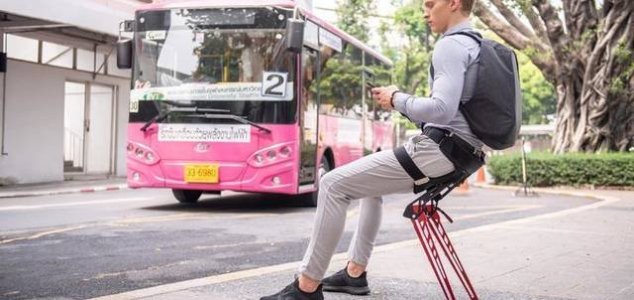 Could this be the future of commuting ?

Image Credit: LEX
Known as LEX, this bizarre new wearable invention has been described as 'an extension of your body.'
While finding a place to sit down can be a genuine problem at times, permanently wearing a fold-out chair around your waist doesn't exactly seem like the ideal solution.
Designed by Astride Bionix, LEX can be equipped within 30 seconds and weighs around 3 pounds.
The chair's legs, which can either dangle behind the wearer or be clipped to the seat, can be folded down and deployed anywhere, enabling the wearer to sit wherever they might be.
But just how practical is it ?
Aside from the inconvenience of having to strap yourself into the device and lug it around, having it wrapped around your waist and thighs makes sitting in a conventional chair rather difficult.
There's also the question of stability and potential injury from falling over while sitting on it.
Factor in the $250 price tag and it seems unlikely that the device is going to catch on anytime soon.
Source: Vice.com | Comments (19)
Tags: LEX, Chair