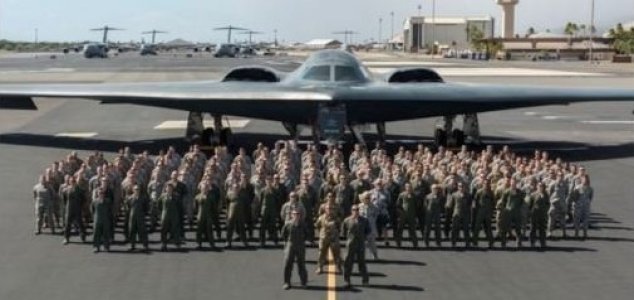 The Tweet featured this picture of a Stealth Bomber.

Image Credit: Twitter / DVIDSHub
A US military Twitter account has issued an apology for threatening to bomb 'Storm Area 51' attendees.
Appearing on the official Twitter page of the Defense Visual Information Distribution Service which serves as a connection between the media and the military, the Tweet showed an image of several dozen servicemen standing in front of a Stealth Bomber with the words:
"The last thing #Millenials will see if they attempt the #area51raid today..."
Having realized the inappropriateness of threatening to bomb US citizens (even in jest), those behind the DVIDS account quickly removed the Tweet and posted up an apology:
"Last night a DVIDSHUB employee posted a Tweet that in NO WAY supports the stance of the Department of Defense. It was inappropriate and we apologize for this mistake."
The original post had gone up just before the infamous 'Storm Area 51' event which, despite accruing over two million sign-ups, ultimately fizzled out when very few people actually turned up on the day.
Whether the employee responsible for the message still had a job the next day remains unclear.
Source: Twitter.com | Comments (7)
Similar stories based on this topic:
Tags: Area 51