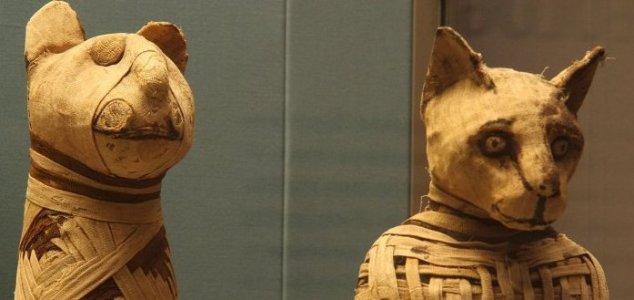 Two examples of ancient Egyptian animal mummies.

Image Credit: CC BY-SA 2.0 Mario Sanchez
New CT scans of an ancient mummified cat dating back 2,500 years have revealed something rather unexpected.
During the time of the ancient Egyptians, the domestic cat was held in the highest esteem. Many people worshipped them as the living incarnation of the half-feline, half-woman Goddess Bastet.
As such, many cats were mummified when they died in much the same way as the pharoahs.
Archaeologists have uncovered several dozen examples of mummified cats over the years and it is believed that the Egyptians may have mummified more than 70 million animals in total.
Recently a 2,500-year-old cat mummy that had been kept at the Museum of Fine Arts in Rennes, France underwent a computerized tomography (CT) scan to find out what lay inside.
What researchers found beneath the wrappings came as quite a surprise.
Instead of the bones of a single cat they found a hodgepodge of skeletal remains belonging to three individual cats. The skull had been substituted for a ball of fabric and although several other bones were missing, the mummy did contain three tails and five hind legs.
"There are millions of animal mummies, but few have been imaged," said Theophane Nicolas from the Institut national de recherches archeologiques preventives (INRAP). "Some are empty, others contain only one bone, sometimes the cat is complete. The mummy of Rennes is a variant."
"Some researchers believe that we are dealing with an ancient scam organised by unscrupulous priests, we believe on the contrary that there are innumerable ways to make animal mummies."
"We will know more once we have made a body of imagery, which joins a field of study that is developing on a global scale."
Source: Fox News | Comments (9)
Similar stories based on this topic:
Tags: Egypt, Cat, Mummy