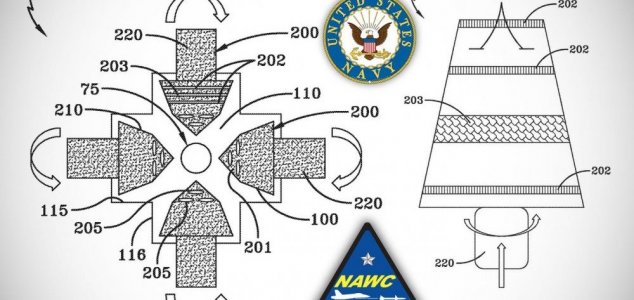 Could this be the future of energy generation ?

Image Credit: US Navy
The engineer responsible for various exotic 'UFO tech' patents has spoken to the media for the first time.
Back in June 2019, we reported that the US Navy had patented a number of 'out there' technologies based around concepts far in advance of anything that we see used by the military today.
Among them was a "hybrid aerospace-underwater craft" capable of unparalleled manoeuvrability both in the water and out of it - something that happens to sound a lot like the 'Tic-Tac' UFO pursued by pilots during the infamous USS Nimitz incident in 2004.
Similar patents had also been filed for a "high frequency gravitational wave generator", an "electromagnetic 'force field' generator" and even a "craft using an inertial mass reduction device."
Then in October, it was revealed that the same engineer had patented a new type of revolutionary compact nuclear fusion reactor.
Often seen as the Holy Grail of power generation, nuclear fusion is the same process that produces energy in the Sun and works by fusing hydrogen nuclei together to create helium.
Unlike nuclear fission which comes with the inherent risk of a meltdown, fusion is much cleaner and safer while the hydrogen fuel used by the process is so abundant that it is practically limitless.
Now at last, after many months of refusing to respond to questions, the man behind these exotic patents - Salvatore Cezar Pais - has finally responded to e-mails sent by
The War Zone
.
Dr. Pais is certainly well qualified, having previously served as an aerospace engineer with Naval Air Systems Command before moving to the Navy's Strategic Systems Programs.
In his response
, he emphasized that he was confident about the validity of his inventions.
"The fact that my work on the design of a Compact Fusion Reactor was accepted for publication in such a prestigious journal as IEEE TPS, should speak volumes as to its importance and credibility - and should eliminate (or at least alleviate) all misconceptions you (or any other person) may have in regard to the veracity (or possibility) of my advanced physics concepts," he wrote.
Does this mean that all the patents mentioned will actually make it into real-world vehicles ? Probably not, but if even one of them does, it will certainly be interesting to see it in action.
Source: Popular Mechanics | Comments (7)
Similar stories based on this topic:
Tags: Nuclear Fusion, UFO