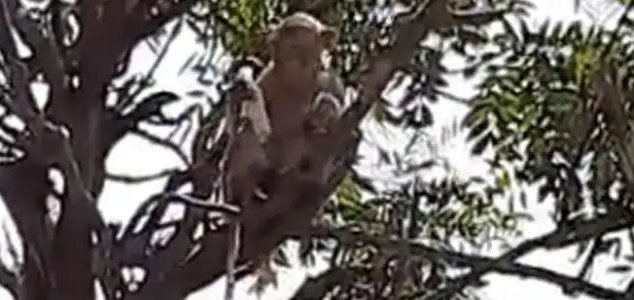 The monkey was seen chewing on a surgical glove.

Image Credit: Twitter / Facebook
Blood samples from three coronavirus patients were stolen by a monkey in the city of Meerut earlier today.
The bizarre incident occurred at one of Uttar Pradesh's largest government hospitals where a monkey reportedly attacked a lab technician, grabbed a number of vials containing coronavirus patient blood samples and then made a quick getaway up a nearby tree.
Video footage of the primate playing with a pair of surgical gloves has since gone viral on social media where some users have likened the scene to something out of the movie
28 Days Later
which saw infected monkeys escape from a lab and spread a zombie virus to the population.
According to reports, the samples were later recovered and had not been damaged.
"They were still intact and we don't think there is any risk of contamination or spread," said Meerut medical college superintendent Dheeraj Raj.
The incident highlights just how easily samples can be lost if not carefully monitored.
"These were not COVID test samples, but blood samples from COVID patients meant for routine tests," said college principal Dr SK Garg.
"The man from whom the samples were snatched said fresh samples have been collected."
"Coronavirus samples are stored and transported in cold chain boxes, not in the open."
Source: The Guardian | Comments (18)
Similar stories based on this topic:
Tags: Coronavirus