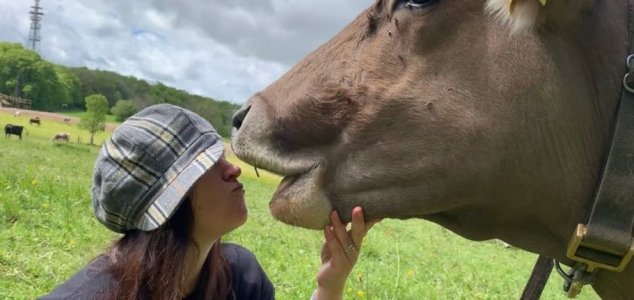 Can painting eyes on a cow's rear-end help protect it from lions ?

Image Credit: YouTube / castl.rocks
Farmers in Africa have found a novel new way of protecting their livestock from opportunistic predators.
In Botswana's Okavango delta, keeping cattle safe is an ongoing battle thanks to the plethora of predators, such as lions, cheetahs and wild dogs, which happen to live in the region.
But where strong fences and other deterrents have failed, one unorthodox tactic has proven surprisingly effective - painting fake eyes on the cows' backsides.
The method was recently the subject of an international study which aimed to find the most ecologically effective alternative to fencing and other methods for keeping cattle safe.
The idea behind it is that lions and other predators rely on sneaking up on their prey without being spotted. If you paint eyes on the back of the cows, it will look as though they can see the lions approaching from behind, thus deterring them from attacking.
"Lions are ambush predators that rely on stalking, and therefore the element of surprise, so being seen by their prey can lead to them abandoning the hunt," said Dr Neil Jordan.
"We tested whether we could hack into this response to reduce livestock losses, potentially protecting lions and livelihoods at the same time."
Sure enough, over the course of the four-year study, no cows with painted eyes were killed by ambush predators, whereas other nearby cows with no painted eyes were targeted.
The only problem is, over time, the predators may get wise to the ruse and it will stop working.
"This is a fundamental issue for nearly all non-lethal approaches, and whether the technique remains effective in the longer-term is not yet known in this case," said Jordan.
"Habituation may be a key issue where resident carnivores frequently encounter 'eye-cows', but in many areas, carnivores may be simply passing through, and habituation is less of a concern there."
Source: New Zealand Herald | Comments (13)
Similar stories based on this topic:
Tags: Cows