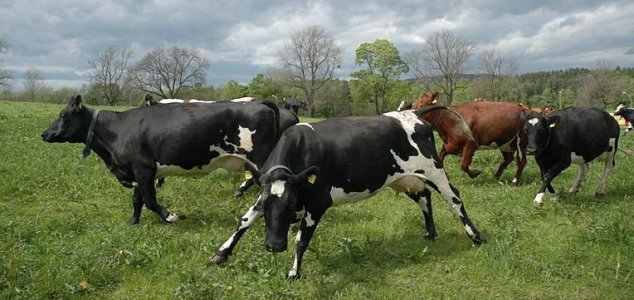 Cows are surprisingly adept at chasing suspects.

Image Credit: CC BY-SA 4.0 Sondreaasan
A woman fleeing through fields to escape the police was caught after being chased by a herd of cattle.
The peculiar incident was captured on video by a Seminole County Sheriff's Office helicopter team as the woman, who had been riding in a stolen Subaru SUV with two other people, tried to get away.
She was only able to get a short distance before the cows moved to intercept her.
"Actually, a large group of cows is following her," the helicopter team stated. "It looks like they may attack her. She's pretty far into the field now."
"If you see the large group of cows, they're literally following her and chasing her."
Fearing for her life, the woman was forced to run towards the edge of the field with the cows in pursuit.
When she finally reached the fence, police officers were waiting for her on the other side.
She was later charged with theft, drug possession, trespassing and resisting arrest.
Source: Tampabay.com | Comments (13)
Tags: Cows, Police, Florida