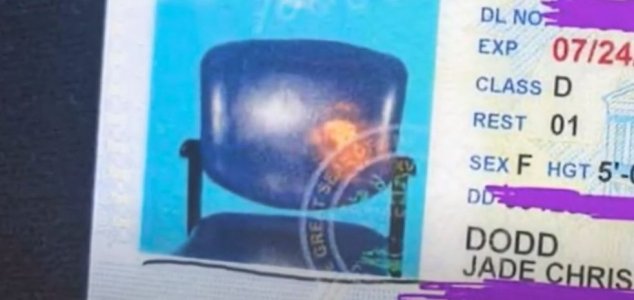 The image wasn't a good likeness...

Image Credit: Jade Dodd
Jade Dodd was stunned to discover that the photo on her new driving license showed nothing but an empty chair.
It's rare to find someone who actually likes the way they look on their passport or driving license photograph - no matter how much you try, it never ends up looking quite the way you want it.
For Jade Dodd recently, however, the photograph on her new driving license was comically useless - not because she looked bad, but because she wasn't even visible in it at all.
Instead, the image contained nothing but an empty chair.
"The lady at the DMV did not really believe me when I was like 'hey, I need my license fixed,'" she said. "Then, she looked it up in the system and goes, 'oh, I need my manager for this.'"
According to the Tennessee Department of Safety and Homeland Security, the photograph had been included on her license by mistake because it had been the last image uploaded to her file.
"My boss thinks it's funnier than anyone," said Dodd. "I was at work Friday and he pointed to a chair outside of his office door and was like, 'I thought this was you, I waved at it this morning.'"
Source: Huffington Post | Comments (4)
Similar stories based on this topic:
Tags: Driving