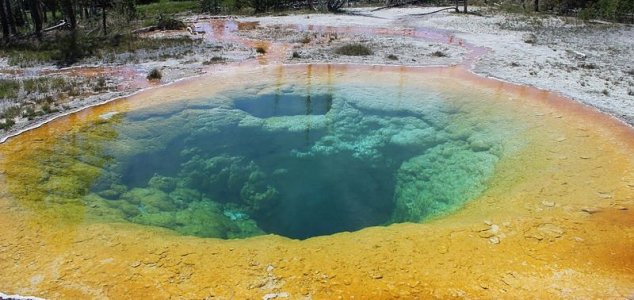 Suffice to say, don't try this at home.

Image Credit: CC BY-SA 4.0 Miguel Hermoso Cuesta
A visitor has been banned from the park after being caught attempting to use the hot springs to cook chicken.
The natural beauty and hot springs of Yellowstone National Park attract thousands of tourists from all over the world on an annual basis, but while most people are there for the sights, now and again someone turns up with a somewhat different agenda in mind.
According to reports, on August 7th park rangers were made aware of a group of people, including a child, who had been seen hiking towards Shoshone Geyser Basin carrying a variety of cooking pots.
When one of the rangers investigated the site, they discovered two chickens on one of the hot springs.
One of the group, it seemed, had actually attempted to use the heat from the springs to cook them.
The culprit was later ordered to appear in court and has since been fined $1200 and banned from the park for two years. Two others from the group were also cited for walking in the thermal area.
It is not permissible for visitors to stray from the paths or throw things into the hot springs.
The case echoes another similar incident from 2001 in which TV host John Curley and his producer were caught filming an on-air segment which also involved cooking chicken using the hot springs.
The show later apologized, admitting that the stunt had been "plain dumb".
Source: Independent | Comments (7)
Similar stories based on this topic:
Tags: Yellowstone