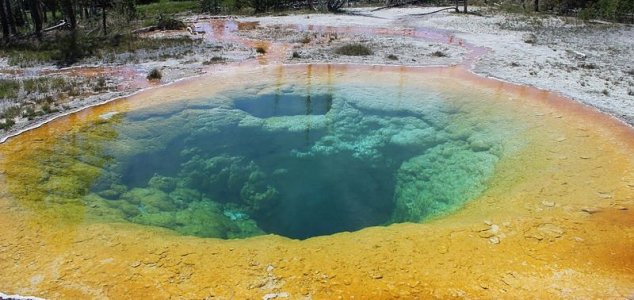 One less thing to worry about ?

Image Credit: CC BY-SA 4.0 Miguel Hermoso Cuesta
It turns out that a supervolcanic eruption at Yellowstone National Park may not happen for a very long time.
The natural beauty of Yellowstone National Park attracts thousands of tourists each year, but not far below the surface is an increasingly large chamber of molten hot magma that could erupt at any time.
The last time an eruption occurred was 631,000 years ago, suggesting that another one may be long overdue, however exactly when this might happen has long remained a bit of a mystery.
Now though, the discovery of two previously unknown super-eruptions at Yellowstone has cast into doubt the idea that the region poses an imminent threat, suggesting instead that the risk of such an event may actually be decreasing rather than increasing over time.
The two new events have been named the McMullen Creek eruption (which occurred 8.99 million years ago) and the Grey's Landing eruption (which occurred 8.72 million years ago).
Their existence significantly alters the timeline at Yellowstone and shows that the relative length of time between eruptions in more recent years is much greater than previously realized.
"We discovered that deposits previously believed to belong to multiple, smaller eruptions were in fact colossal sheets of volcanic material from two previously unknown super-eruptions at about 9.0 and 8.7 million years ago," said volcanologist Thomas Knott from the UK's University of Leicester.
"The younger of the two, the Grey's Landing super-eruption, is now the largest recorded event of the entire Snake-River-Yellowstone volcanic province. It is one of the top five eruptions of all time."
With the number of major eruptions decreasing over the last three million years however, it appears as though the Yellowstone supervolcano may not be overdue another eruption after all.
"It therefore seems that the Yellowstone hotspot has experienced a three-fold decrease in its capacity to produce super-eruption events," said Knott. "This is a very significant decline."
Source: Science Alert | Comments (2)
Similar stories based on this topic:
Tags: Yellowstone