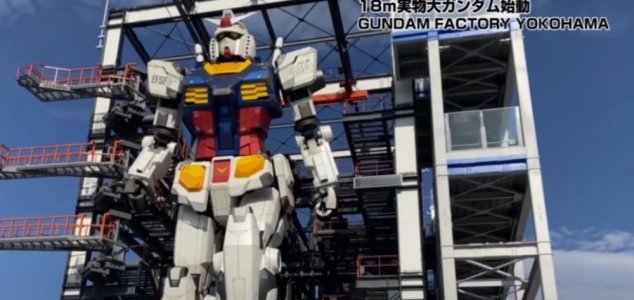 The robot is based on the 'Gundam' anime.

Image Credit: YouTube / oricon
Japan's Gundam Factory Yokohama complex has revealed its fully functional, life-size robot to the media.
Earlier this year we reported that the enormous replica robot, which is based on Japan's super popular and long-running 'Gundam' franchise, had taken its first steps - albeit with its head missing.
Now however, it looks as though the robot's construction is complete - as evidenced by an impressive demonstration at a press event on Monday at the Gundam Factory complex in Yokohama.
Featuring 20 moving parts and standing 60ft tall, the robot was shown walking out of its hangar, complete with orchestral music, spoken dialog and sound effects.
When the facility opens next month, visitors will have the opportunity to get up close to the robot via the various stairs and walkways that have been built around it.
According to reports, it will change its pose every 30 minutes and will be lit up at night.
Fans will also have the chance to experience a virtual reality simulation of being a Gundam pilot.
The facility was scheduled to open back in October but was postponed due to the pandemic.
You can check out the robot in action below.
Source: Japan Times | Comments (8)
Tags: Gundam