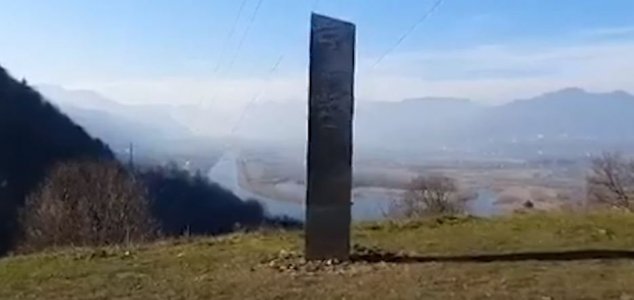 Could the monoliths be connected ?

Image Credit: YouTube / Bloomberg / Ziar Piatra Neamt
The mystery of the '2001' monoliths has deepened after another one has appeared half way across the world.
The Internet has been awash this week with theories attempting to explain the appearance (and subsequent unexplained disappearance) of a striking metallic monolith that was discovered by a helicopter pilot in the remote Utah desert.
The artefact, which resembled a real-life version of the mysterious monoliths featured in Arthur C. Clarke's science-fiction masterpiece '2001: A Space Odyssey', had already been at the center of considerable speculation as authorities and social media users alike attempted to figure out who placed it there and what its purpose was.
Now the mystery has taken an even more intriguing turn after a second monolith has turned up thousands of miles away on the Batca Doamnei Hill in northern Romania.
"There is no reason to panic for those who think there is still life in the universe," local mayor Andrei Carabelea wrote on Facebook. "My guess is that some alien, cheeky and terrible teenagers left home with their parents' UFO and started planting metal monoliths around the world."
"First in Utah and then at Piatra Neamt. I am honoured that they chose our city."
"Beyond the conspiracy theories that can be tempting, I'd like to see this randomness as further proof that our city is special. For the earthlings and (maybe) not only."
He did however add that it would have been nice if those responsible for the monolith had asked for planning permission beforehand, but hopes that it will help to attract tourists to the region.
Source: Independent | Comments (25)
Similar stories based on this topic:
Tags: Monolith