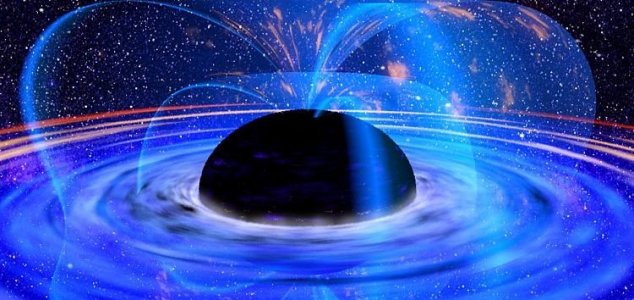 Black holes could be an invaluable source of energy.

Image Credit: NASA/JPL-Caltech
A new study has suggested that we may be able to pick up the telltale signs of this process from light years away.
The idea of looking for signs of intelligent extraterrestrial civilizations by trying to find evidence of their technology - so-called 'technosignatures' - has been explored several times over the years.
Some scientists have speculated that we might be able to see huge alien megastructures in space - objects of such potentially enormous scale that they can be observed with a telescope.
The Dyson Sphere - a theoretical structure built to encompass an entire star - is one such possibility, but now scientists have come up with another possible indicator of extraterrestrial technology that we might be able to detect from Earth and it is all to do with harnessing energy from black holes.
According to the study's authors, technology capable of doing this may leave traces just outside the black hole's event horizon that we could see from Earth - that is if we can figure out what to look for.
"We have only done the physics in this paper," said study co-author and astrophysicist Luca Comisso of Columbia University. "But I am now working with a colleague of mine to apply this to reality, to look for civilizations, to try to see what kind of signal you would need to look for."
50 years ago, mathematical physicist Roger Penrose put forward the notion that there exists a viable mechanism through which a sufficiently advanced civilization could generate power from a black hole by taking advantage of its rotational energy.
The key to this idea lies in the region just outside of a black hole's event horizon where space-time becomes twisted as it's dragged along by the rotation of the black hole - a phenomenon known as frame-dragging.
According to Penrose, if an object is dropped into the region where these forces are greatest, it would be split in two, with one half being thrown beyond the event horizon and the other being accelerated outwards with around 21% more energy than it had when it started.
If such a thing is actually possible and someone somewhere has figured out how to do this, it could potentially serve as the most prominent indicator yet that we are not alone in the universe.
Perhaps one day in the distant future, it's a method that we may even be capable of doing ourselves.
Source: Live Science | Comments (25)
Similar stories based on this topic:
Tags: Black Hole, Extraterrestrial