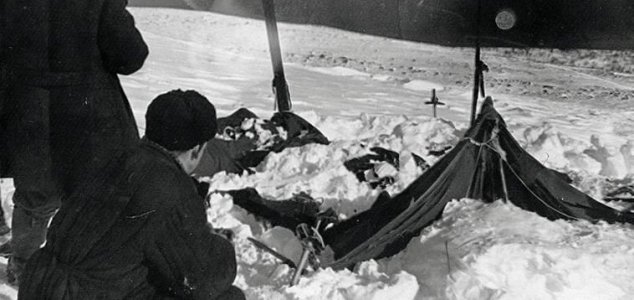 The remains of the group's tent was found on the mountainside.

Image Credit: Soviet investigators
Scientists believe that they have finally found an answer to one of the 20th Century's most enduring mysteries.
Considered to be one of the most chilling unsolved cases ever to come out of Russia, the Dyatlov Pass incident involved a group of nine students who went missing after going for a trek in the Ural Mountains. Led by 23-year-old Igor Dyatlov, they departed on January 23th, 1959 and were never seen alive again.
When rescue teams went to look for them they found the group's tent, which appeared to have been sliced open from the inside with a sharp instrument, on the slopes of Mount Kholat Syakhl.
The hikers' belongings were all strewn around the campsite and a trail of footprints indicated that they had got up and left in a hurry, some of them without any shoes or socks.
After following the trail for 1.5km the rescuers discovered five bodies, many exhibiting signs of physical trauma such as a cracked skull and broken ribs.
No sign of the other four members of the group could be found, however after an extensive search covering two months, rescuers eventually located their remains in nearby woodland.
A criminal investigation later blamed their deaths on an "unknown compelling force".
Now however, 62 years on from the incident, a new study published in the journal
Communications Earth and Environment
has put forward the theory that the hikers had died from an unusual form of small-scale 'delayed' avalanche.
The study was headed up by Johan Gaume - head of the Snow and Avalanche Simulation Laboratory at the Swiss Federal Institute of Technology - and geotechnical engineer Alexander Puzrin.
When the hikers cut into the snow to pitch their tent, the authors argue, the slope was destabilized. While there was no fresh snowfall that night, katabatic winds may have brought snow from higher up the mountains and deposited it on the slope, eventually causing it to give way.
This would explain the mysterious 9-hour delay between them setting up camp and the avalanche that ultimately ended their lives.
Other experts, including professional mountain climber Freddie Wilkinson, also remain convinced that this is what happened.
"I'm absolutely convinced that the tragedy was the result of wind and snow deposition, and the fact that they pitched camp in the lee of a ridge," he said.
"I've made this mistake in my mountaineering career more than once."
Ultimately however, we may never know for sure exactly what happened.
Source: National Geographic | Comments (12)
Tags: Dyatlov Pass