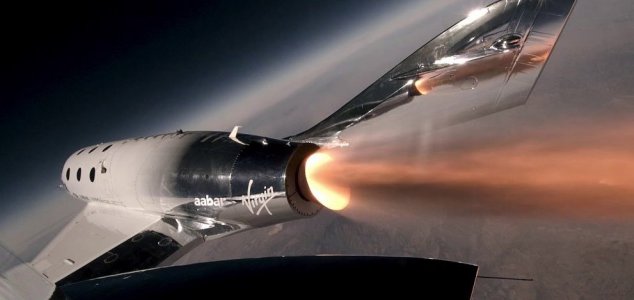 Could sending a flat Earther into space be the answer ?

Image Credit: YouTube / Virgin Galactic
A man from Scotland is attempting to raise funds for a space mission to prove his flat Earther mates wrong.
For Marc Gauld - a 37-year-old oil worker from Aberdeen - the fact that the Earth is round (an oblate spheroid) is indisputable, but this hasn't stopped him from being bombarded with conspiracy theories from his friends who believe that our planet is little more than a flat disc.
He is now so fed up with it in fact that he has launched an appeal to raise enough money to send a prominent flat Earther into space, thus proving once and for all that the Earth is not flat.
"I have a couple of friends that are flat Earthers and it drives me crazy their total nonsense that they speak," he told the
Daily Record
.
"They call astronauts actors who are paid to lie and that boils my blood because these are guys who barely hold down jobs and do nothing so to talk about astronauts like that I don't know where they get off. I decided to give them the chance to put their money where their mouth is for once and the only way I could do it is by sending a high ranking flat Earther into space."
Gauld has reportedly contacted both Richard Branson and Elon Musk in an attempt to arrange the trip but has so far not received a response from either of them.
He has since launched a campaign to raise $250000 for a seat aboard Branson's Virgin Galactic.
"The first flights are planned for this year but may be held back due to the COVID pandemic but I hope to have a flat Earther in space within the next couple years," said Gauld.
Whether those in the flat Earth community would accept such a trip as concrete evidence that everything they believe is a lie however seems unlikely.
Source: Daily Record | Comments (21)
Similar stories based on this topic:
Tags: Flat Earth