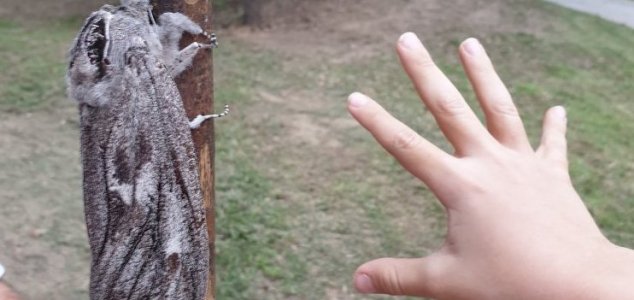 This is one huge moth.

Image Credit: Facebook / Pam Taylor
A woman in Australia recently captured photographs of a moth so huge that it exceeded the size of her hand.
For those with a phobia of moths, you can safely add this enormous critter to the list of over-sized creepy-crawlies that might see you strike Australia off your bucket list of countries to visit.
Photographs of the massive winged insect were posted up on the
Amateur Entomology Australia
Facebook page by Pam Taylor on February 23rd after she encountered it near Brisbane.
The insect, which was found gripping a thin tree branch, remained motionless while she took photographs comparing its size to that of her outstretched hand.
Experts were quick to identity it as the giant wood moth - the heaviest moth species in the world.
Fully grown, these insects can weigh up to 30 grams with a wingspan of 25 centimeters.
You can check out additional pictures -
here
.
Source: Oddity Central | Comments (10)
Similar stories based on this topic:
Tags: Moth