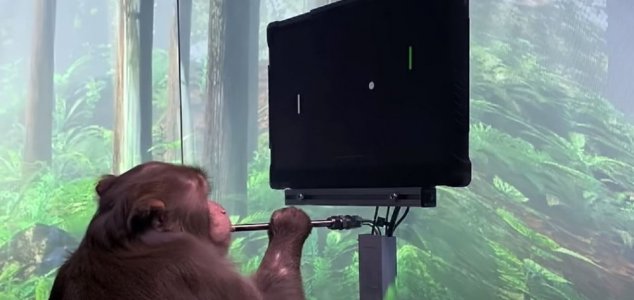 Will brain-computer interfaces become common in the future ?

Image Credit: YouTube / Neuralink
Scientists at Neuralink have made it possible for a monkey to play a computer game just by thinking.
The company, which focuses on creating brain-computer interfaces, has been described by Elon Musk as an antidote to the existential threat of an artificial intelligence surpassing our own capabilities.
It's latest accomplishment: to make it possible for a monkey to play Pong using only its mind.
The bizarre, yet impressive accomplishment was recently posted up on YouTube and was made possible by implanting a special chip inside the monkey's brain that could record information about how its neurons were firing - thus enabling the computer to learn how to predict its hand movements.
The experiment began by having the monkey use a joystick to move a cursor around the screen. When it moved it to one of the colored squares, it received a treat through a straw.
By learning to predict the monkey's hand movements, the computer was able to interpret and represent the animal's intended movements on the screen, even when the joystick was unplugged.
This functionality culminated in having the monkey play a game of Pong, with the paddle being moved up and down the screen using nothing but the animal's own thoughts.
It's an impressive example of how Neuralink's brain-computer interface technology could one day make it possible for a human to control a computer without the need for physical inputs.
Such technology could prove particularly beneficial to people with paralysis and other conditions.
It could even make it possible for our existing abilities to be augmented - providing such advantages as superhuman vision or hearing that would not otherwise be possible.
Just how far Neuralink can take this technology will certainly be interesting to see.
Source: The Verge | Comments (3)
Similar stories based on this topic:
Tags: Neuralink, Brain