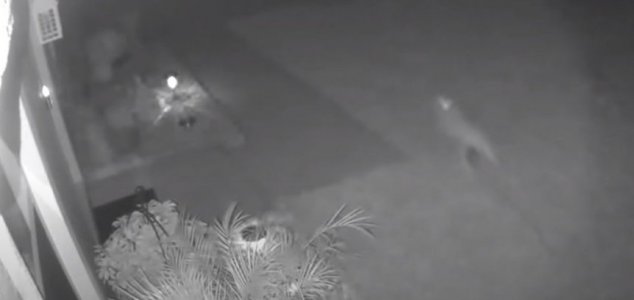 Is this really a dinosaur ?

Image Credit: YouTube / Fox 35 Orlando
A woman from Florida recently captured footage of what she believes to be a dinosaur running through her yard.
The bizarre sighting, which occurred in Palm Coast, Florida back on April 17th, was later featured in a piece by Fox News and has since gone on to rack up hundreds of thousands of views online.
It was reported by Cristina Ryan who remains adamant that her security camera had picked up a "baby dinosaur" running through her yard in the middle of the night.
"Any animal we can come up with that would be 'walking' at 3:40 in the morning, wouldn't walk this way," she said.
"Maybe I've watched '
Jurassic Park
' too many times, but I see a raptor or other small dinosaur!"
It's difficult to say exactly what the creature in the video could be, however it has been speculated that it is far more likely to be a dog or perhaps some sort of large lizard such as a komodo dragon.
"Some say a large bird, but that makes no sense - since whatever it is appears to have front legs," said Ryan. "So not sure? I'm sticking with raptor myself."
You can check out the footage for yourself below.
Source: New York Post | Comments (24)
Similar stories based on this topic:
Tags: Dinosaur, Florida