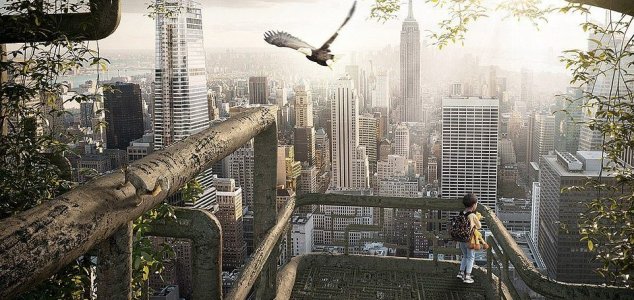 Could this be the future of urban living ?

Image Credit: evolo.us
A design concept for a skyscraper made from genetically modified trees has won this year's eVolo contest.
Started in 2006, the prestigious eVolo Skyscraper Competition - which offers a $5,000 cash prize - awards those who use architecture to "challenge the way we understand vertical architecture and its relationship with the natural and built environments."
This year's winner, which was picked from nearly 500 entries, was developed by a team of architects from the Ukraine whose "Living Skyscraper for New York City" envisages a future in which entire buildings can be formed from an intricate network of genetically modified trees.
Designed to provide a solution to the city's growing population as well as its lack of green spaces, the 'living skyscraper' is formed entirely from trees that have been shaped to form walls and rooms.
"We believe that by integrating genetically modified trees during the stage of their growth and development into architecture, we can restore the balance between the digitalized megacities and the Earth's resources, which are gradually depleted," the team wrote.
"A skyscraper tree is a separate living organism with its own root system, irrigation, care mechanisms, and features of development focused on its adaptation to use in architecture."
While such a design might not be practical in reality and the entire thing would seem to be one hell of a fire risk, it is nonetheless a fascinating look at a concept that could potentially exist in the future.
"As the Aztecs learned to adapt to their environment we hoped to realize a proposal that co-lives with nature and doesn't seek to tame it," the team wrote.
Source: Mail Online | Comments (7)
Similar stories based on this topic:
Tags: Skyscraper