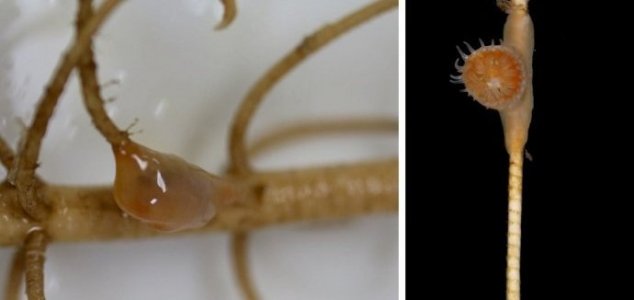 This symbiotic relationship has endured over aeons.

Image Credit: S. Amemiya et al.
Scientists have discovered an ancient symbiotic relationship off Japan that was long thought to be extinct.
During the Paleozoic era some 273 million years ago, two types of organism - crinoids and corals - appeared throughout the fossil record and shared a mutually beneficial symbiotic relationship, with the corals overgrowing the crinoid stems to climb high above the seafloor to aid filter-feeding.
This effective partnership, while successful during prehistoric times, seemed to have disappeared following the Permian-Triassic extinction, but now - against all odds - scientists have discovered living examples of corals growing from the stalks of crinoids on the seafloor off the coast of Japan.
"These specimens represent the first detailed records and examinations of a recent syn vivo association of a crinoid (host) and a hexacoral (epibiont)," the researchers wrote.
"...analyses of these associations can shed new light on our understanding of these common Paleozoic associations."
The modern-day version of this age-old relationship involves two different species of coral - Metridioidea and Abyssoanthus - which were found growing from Japanese sea lilies.
The discovery was made approximately 100 meters below the ocean's surface.
"As both Actiniaria and Zoantharia have their phylogenetic roots deep in the Palaeozoic, and coral-crinoid associations were common among Palaeozoic Tabulate and Rugose corals, we can speculate that also Palaeozoic non-skeletal corals might have developed this strategy of settling on crinoids," the researchers wrote.
Source: Science Alert | Comments (1)
Tags: Living Fossil