By:

Ari

| Location:

Santa Rosa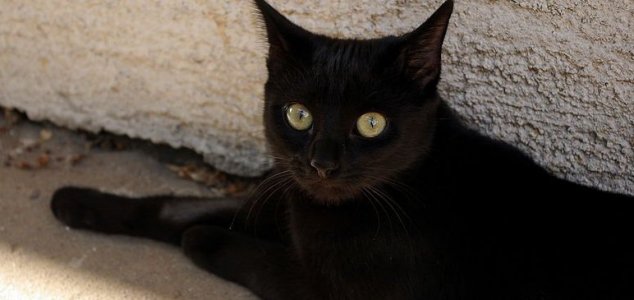 Image Credit: CC BY-SA 3.0 Joergbieszczak
I decided to make a post about this, because I haven't been able to find any stories specifically like my experience. I've read a few about people seeing cats out of the corner of their eye, then disappearing when they try to look at them. But mine is a bit different.
I'd first like to say that one, I neither believe nor disbelieve in the paranormal, and second I've never really had any kind of paranormal experiences before. At least not like this.
So here's what happened:
Two nights ago my friend was over and we were having a few drinks, like we usually do when we hang out. He usually goes downstairs pretty frequently to refill his water bottle. At one point while he was refilling his water bottle, I had to pee.
As soon as I opened my bedroom door, I glanced down the stairs and saw two bright (what looked to be like) orange cat eyes staring back at me, and the eyes had an expression like a deer caught in headlights. I couldn't see the head or the body, it was pitch black and then two big orange eyes.
We kept eye contact for a couple of seconds, before I shut my door. I wasn't scared, nor did I feel threatened. It was odd, because it almost felt like that moment when you accidentally walk in on someone changing or something like that.
My first thought was, "Well maybe my roommates got a new cat and just didn't tell me. I'll ask my friend if he saw or heard a cat when he comes back." After that I went back out and went to the bathroom, and whatever was there before was gone.
When my friend came back I asked him if he saw or heard a cat while he was downstairs. A little confused, he said, "No, why?"
With that response I didn't know what to think, and I told him what I saw. So we went back downstairs, looked around the kitchen and living room trying to lure the cat out/find it. Nothing. We even tried to see if there was food and water bowls left out for it, and still nothing.
I kind of freaked out for a while, wondering if I was hallucinating and trying to convince myself that a cat had to have sneaked into the house somehow (my stupid roommates sometimes leave the front door open) and even if it had, there's no way it could've gotten out. Since all the doors and windows were shut for the night.
The next day (yesterday) I just went to work and forgot about it. That same night I had pretty odd dreams, but I had this one dream that I remembered. I was in a kitchen on a bright and sunny day. In the middle of the kitchen I saw an orange cat with it's back turned to me. When I approached it, it looked back at me and had the same big orange eyes that I had seen that night. Again, I didn't feel scared or threatened.
But now I'm just confused and left with questions.
Am I hallucinating? Is this cat supposed to be my spirit animal or something? Was this cat real and just good at getting in and out of places? Or was this a ghost cat? Am I witch? lol
Honestly, yeah I like cats. But I'm much more of a dog person. I've never really had a big connection with cats, though I love all animals. I don't know what answers I'm seeking. I'm just at a loss at this point.
Comments (2)