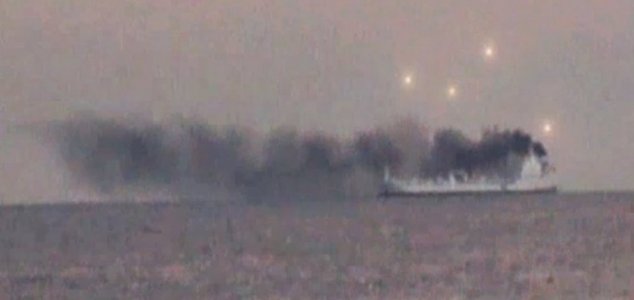 An analyst has downplayed the possibility that the lights were flares.

Image Credit: YouTube / looknowtv
A video has appeared online showing unusual lights in the sky above a boat off the California coast.
Little is known about the origins of the video save for some brief details claiming that the footage was filmed in September. The cameraman appears to be located on a beach looking across the ocean at a ship that seems to have run in to some trouble with smoke billowing from the hull.
"You can see a few UFOs flying over or behind this ship which appears to have a large amount of smoke coming from it," the video caption states. "Whether or not this UFO sighting is captured during a fire on the ship is unclear."
The most obvious explanation is that the strange lights are actually flares, a scenario that would seem to make sense given the circumstances. The uploader however has specifically downplayed this possibility by stating "when we first viewed this tape, we thought that the UFOs might be military flares released from a plane at sea, but military flares do not fly up, they float straight down."
FX Models owner and Huffington Post UFO analyst Marc Dantonio also seems to agree with this assessment. "Although the initial video event shows something that looks like flares, the subsequent behavior does not match the expected behavior," he said. "Parachute flares would not appear to hang in the sky like this unless they were quite far away, perhaps 30-plus miles away when seen."
Source: Huffington Post | Comments (39)
Tags: UFO, California