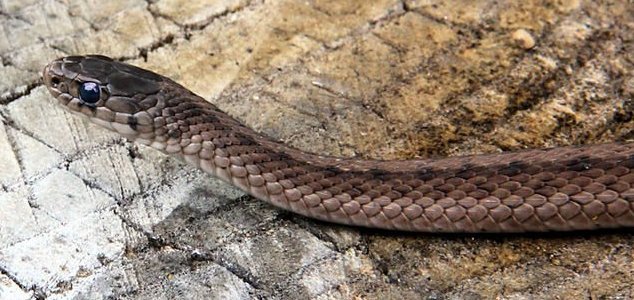 The brown snake is considered an invasive species.

Image Credit: CC BY-SA 3.0 Maberlyn
More than 2000 mice laced with painkillers have been airdropped by parachute from a helicopter over Guam.
The Pacific island has been inundated with brown snakes, an invasive species that is highly damaging to local birds and wildlife while proving extremely difficult to control. Thought to have arrived in Guam in the 1950s, the snakes have also inflicted millions of dollars worth of damage by wriggling in to electrical substations and causing power outages.
In a bid to solve the problem, authorities have taken to lacing mice with the painkiller Tylenol and then dropping them by parachute from a helicopter over the affected areas. While the drug's active ingredient, acetaminophen, is harmless to most other wildlife it has proven to be uniquely deadly to the snakes.
The key to the plan's success lies in the design of the unique mouse parachutes which consist of two pieces of cardboard and a piece of green tissue paper.
"The cardboard is heavier than the tissue paper and opens up in an inverted horseshoe," said wildlife biologist Dan Vice. "It then floats down and ultimately hangs up in the forest canopy. Once it's hung in the forest canopy, snakes have an opportunity to consume the bait."
Source: NBC News | Comments (23)
Similar stories based on this topic:
Tags: Mice, Snakes