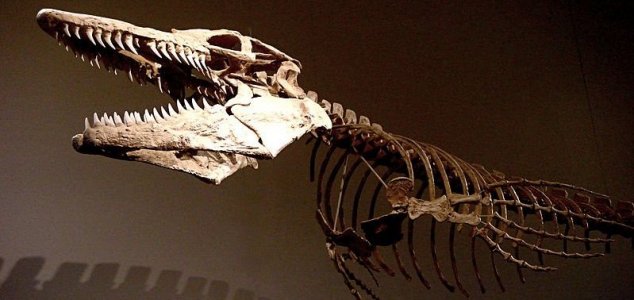 A mosasaur skeleton.

Image Credit: CC BY-SA 2.0 L'eau Bleue
Scientists have discovered traces of skin pigment in the fossilized remains of prehistoric sea beasts.
While we know from the discovery of fossils what many species of prehistoric ocean dwellers would have looked like, determining precisely what color these creatures would have been is proving to be something of a challenge.
Scientists have been able to gain some insight in to this by examining microscopic structures called melanosomes to determine coloration, but this technique doesn't provide a full picture.
Now a team of researchers have been able to take this one step further by identifying melanin, the pigment responsible for color, in the fossilized remains. The discovery has shown that the skin of many prehistoric sea creatures would have been very dark indeed.
Three specimens were examined as part of the research, a mosasaur dating back 85 million years, a leatherback turtle dating back 55 million years and a 190-million-year-old ichthyosaur.
"Determining colour in an ancient organism is more than a smart trick," said Professor Mike Benton. "For many animals, colour is crucial for sexual signalling, for camouflage, or for warning - think of stripy snakes - and so contributes hugely to the success of the evolution of the groups."
Source: BBC News | Comments (6)
Tags: Ichthyosaur, Sea Monster